Nursing Training Rooms
Training rooms for <Fundamental Nursing>, <Psychiatric and Mental Health Nursing>, <Public Health Nursing>, <Adult Nursing>, <Gerontological Nursing>, <Maternity Nursing>, and <Pediatric Nursing> are available. The Adult and Geriatric Training Rooms are equipped with a central piping system that allows suctioning and oxygen inhalation. ICU beds and various types of biological simulators and measurement devices are also available.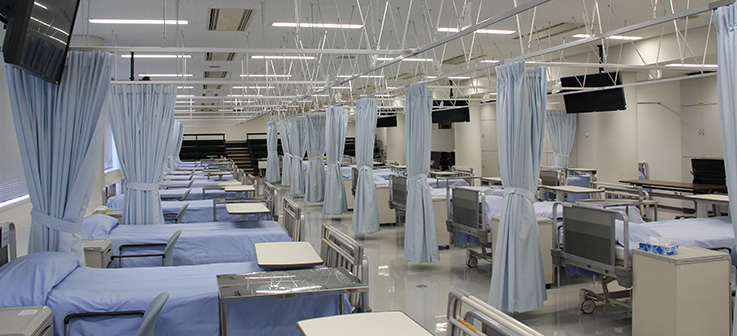 Fundamental Nursing Training Room
Maternity Nursing Training Room

Adult Nursing Training Room
Home-care
Nursing Training Room

Public Health
Nursing Training Room

Laboratory
Learning Support Facility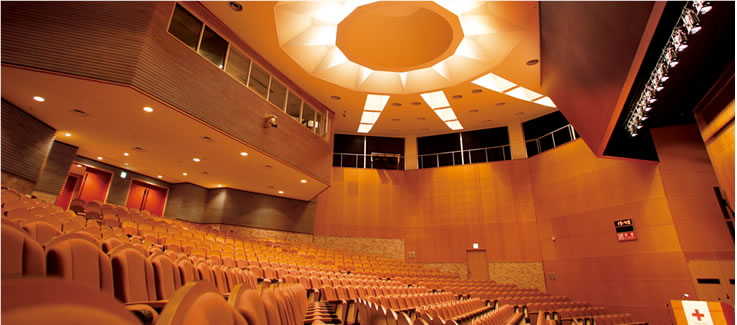 Auditorium
Library・Academic Information Center

The Library of 72,000 volumes provides 121 seats. A historical materials room attached to it provides information about the Japan Red Cross Society with more than 140 years of history. The Auditorium, which accommodates 584 people, is utilized for admission ceremonies and lecture meetings with invited lecturers.
Classrooms
In addition to 9 lecture and 17 seminar rooms, the Laboratory, Information Technology Room, and Large Lecture Room are also available. Being open to students for self-learning during out-of-class hours, the Information Technology Room and Large Lecture Room are utilized by them to collect information and prepare reports using the Internet.
Information Technology Room

Large Lecture Room
Community Interaction Spot
The Red Cross Exhibition Room exhibits historical materials related to the Japanese Red Cross Society, as well as the initial edition of "A Memory of Solferino" by Henry Dunant who created the International Red Cross Movement. There is also the Health Promotion Center for citizens to learn about health promotion.
Red Cross Exhibition Room

Health Promotion Center
Physical education facilities
The Gymnasium comprises an arena with an area equivalent to 2 volleyball courts and dressing rooms with shower equipment. To serve as a shelter in the event of a major disaster, it also provides an oxygen inhalation system and warehouse for disasters. Outdoor tennis courts are also available.
Gymnasium

Warehouse for Disasters

Tennis court
Co-op